Multifamily
Civitas Capital is active as a lender, investor, and developer. We invest for our own account and through co-GP structures with partners.
Strategies
EQUITY
We seek to preserve and enhance attainable housing stock through acquisition and development.
DEBT
Through our EB-5 platform, we provide senior and subordinated construction debt for multifamily and single-family build-to-rent projects nationwide.
Investment Portfolio Highlight
Mezzo
Aubrey, Texas
Mezzo is a 378-unit luxury multifamily property situated in the Dallas suburb of Aubrey, Texas. The property is just minutes away from prominent establishments such as the PGA headquarters and Toyota Motor's North American headquarters. Additionally, it enjoys close proximity to major employment hubs like the Platinum Corridor.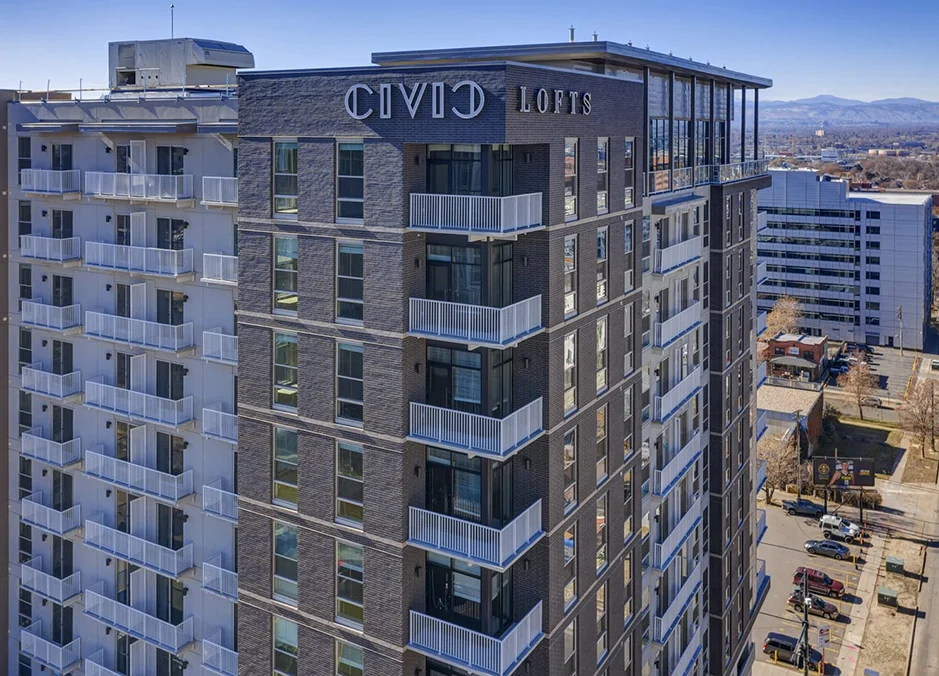 Civic Lofts
Denver, Colorado
Civitas made a mezzanine loan to an affiliate of Argyle Residential to partially finance the development of Civic Lofts, a 176-unit, Class A multifamily community located in the heart of Denver, Colorado. The project will primarily offer micro-units, which are especially attractive to Millennial renters seeking a lower rent expense.
Territory at Greenhouse
Houston, Texas
Civitas acquired Territory at Greenhouse, a 288-unit, 13-building, garden-style luxury apartment complex in West Houston. Located between West Houston's Energy Corridor and Katy, the property, developed in 2020, is within a 20-minute drive from either downtown Houston or Sugar Land, one of America's best suburbs.
Center Place Apartments
Arlington, Texas
Civitas acquired Center Place Apartments, a 194-unit multifamily property in Arlington, a suburb that is a crucial growth-driver within the Dallas-Fort Worth MSA. The property, just north of Interstate 20, allows residents excellent access throughout North Texas. Center Place was built in two phases, 1984 and 2013.
Market Opportunity, Strategy, & Execution
Civitas Capital deliberately does not have a traditional comingled fund focused on asset classes, because the multifamily sector is changing rapidly. Therefore it is important to maintain flexibility and invest in core-plus, value-add, and ground-up development. Through our DOMOS fund, as well as the firm's internal capital, Civitas has the capacity to close transactions quickly while maintaining this flexibility.
Identify Top Markets
We look at established markets that exhibit positive long-term fundamentals.
Identify Renter Demand
We look at market trends to determine high demand for housing.
Provide a Compelling Value Proposition
Through a host of possible improvements we look to add value.
Timing
We analyze the capital markets and real estate trends to best assess the quality of the investment and hold period.
Partner Choice
We partner with proven developers and operators when possible and warranted.
Consistent Deal Flow
Our team looks at on- and off-market deal flow weekly to be sure we take advantage of every sensible opportunity.
Markets
We combine our Texas regional expertise with niche opportunities coast-to-coast, enabling us to invest across the U.S.
Geographic Focus
Focus on Texas and the Southwest U.S, with option to invest elsewhere in the U.S.